What's on

Let's Get Physical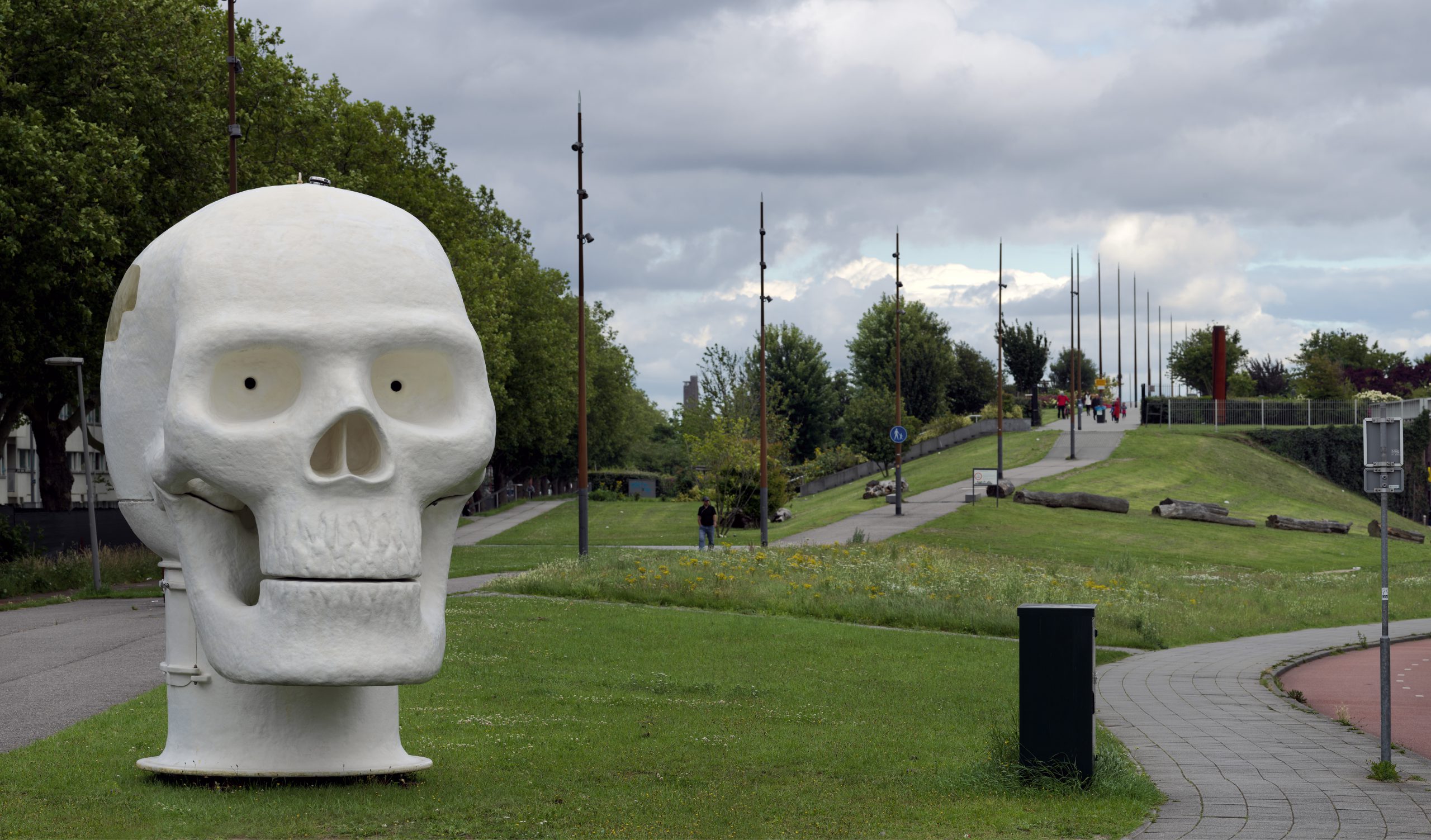 Wellness Skull' (2007) is part of Let's Get Physical, located at Dakpark Rotterdam. Image by GJ van Rooij
Sculpture route 'Let's Get Physical' is a dynamic exploration of the burgeoning industrial Merwevierhaven area in Rotterdam-West, highlighted through a selection of 30+ Atelier Van Lieshout works at 12 different locations. Atelier Van Lieshout, the studio founded by artist Joep van Lieshout, was one of the first art studios to settle in the Merwevierhaven in the 1980s and continues to expand and foster projects that elevate the area. 'Let's Get Physical' starts at AVL Mundo Sculpture Park, the heart of the sculpture route and fans out over M4H. Other participating locations are: Weelde, Floating Farm, Keilecafé, De Voedseltuin, Keilewerf, Stichting Dakpark and several publicly accessible venues.
18 July – 4 October 2020
Get your free map at AVL Mundo's Sculpture Park – Keileweg 18, Rotterdam, The Netherlands
or download your map here
Link to press kit with more information and images
Tip: Discover 'Let's Get Physical' by bike! UrbanGuides provides tours hosted by an experienced guide.

Let's Get Physical is made possible by the generous support of: M4H Rotterdam, Rotterdam Partners, Stichting Droom en Daad, Stichting Job Dura Fonds, AVL Mundo.
Concept and design: studio de Ronners


When visiting AVL Mundo, please post your images on social media. Don't forget to tag @avlmundo and use #avlmundo to be part of our family!

Archive
AVL Mundo was founded by artist Joep Van Lieshout  in 2008 and has organized exhibitions, residencies, multi-media art events and festivals. Please find a brief selection of our past happenings here. To learn about future events… check our agenda below or join our mailing list!

Agenda
5 & 6 September 2020 - MOMO Fabrique
Motel Mozaïque organizes the only pop festival in Rotterdam this summer: MOMO Fabrique at AVL Mundo. There will be a laying down-concert, spoken word performances, immersive live-music by S10, YĪN YĪN and Meetsysteem and much more. Tickets (€30) available via this link.
4 September 2020 - God of Birds
Especially for God of Birds composer Brendan Faegre wrote Early Bird, a musical composition which will be performed by three percussionists (Slagwerk Den Haag) using Atelier Van Lieshout's sculpture Early Bird (2015) as a versatile sound source. Tickets €8,50) for this 30-minute concert are available soon.
21 Aug & 27 Aug - Cosmic Cowboy
Cosmic Cowboy is a one-man performance about the eternal cycle of life. Actor John Buijsman wanted to be a cowboy when he grew up. Now, almost a quarter of a century later, that dream is still present. Tickets (€5) via this link. Please note that Cosmic Cowboy is a Dutch spoken event.
18 July - 4 October 2020 - Let's Get Physical
Sculpture route Let's Get Physical presents 30+ Atelier Van Lieshout sculptures at 13 locations in Rotterdam-West. Get your free road map at our Sculpture Park or via this link

Newsletter
Keep up to date and join our community. Fill out your e-mail address to receive our monthly newsletter!

Supporting AVL Mundo
We do big art, but we are a small organization. Donations are welcome, you may contribute by clicking this link.
AVL Mundo is proud of her partners and supporters. Without whom we wouldn't be able to offer exhibitions for free.

Furthermore, we collaborate with people with great ideas. In the past, we have joined forces with Motel Mozaïque, De Doelen, Connie Jansen Danst, Object Rotterdam, de Geheime Tuin, Witte de With, Science Gallery Rotterdam, TENT, Art Rotterdam, Tail of a Tub and many others.
If you have a good idea, or want to support us, contact us via mail@avlmundo.org or have a look at our support page.