What's on

Final Presentation:
Artist in Residence | Shimon Kamada
2

3 October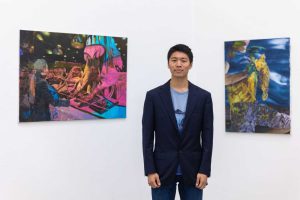 AVL Mundo and Galerie Ron Mandos would like to invite you to the final presentation of Shimon Kamada, former Best of Graduate and recipient of the RM Residency Award 2020. 
By winning the RM Residency Award, Shimon got the opportunity to work as an artist-in-residence in a studio at AVL Mundo in Rotterdam. The presentation marks the end of this six-month residency.
This event gives you the opportunity to behold the fruits of Shimon's residency. Be sure to save the date for this exciting afternoon. Do you want to attend Kamada's final presentation? Please RSVP via e-mail .
Saturday 23th of October, 12.00- 17.00
Entrance: Keileweg 18
Please RSVP via e-mail 
Click here for more information about Shimon Kamada

Klankvorm presents:
Audio Visual Explorations
30 October

Audio Visual Explorations is a series of events in which Klankvorm zooms in on the synesthetic relation between moving image and sound. Part of the project is to commission artists from different backgrounds to create new performances and films which experiment with the cinematographic apparatus. On the 30th of October Klankvorm will present three live AV performances (of which two are newly commissioned) and the premiere of five commissioned films at the AVL Mundo complex in Rotterdam.

Performances by:
Perila & Sophia Bulgakova
Gert-Jan Prins & Bas van Koolwijk
Red Brut & Marco Broeders
Films by:
Ilpo Väisänen & Heleen Blanken
Akiko Nakayama & Fis
Saåad & Klara Ravat
Lichun Tseng & Robert Kroos
Nicky Assmann & Rotor
Saturday 30th of October, 11.00- 18.00
Doors: 20:00, start: 20:30
Entrance: Keileweg 18
Tickets 11 euro in presale, 15 euro at the door

Always stay updated
Follow us @AVL Mundo
Don't forget to tag #avlmundo to be part of our family!

Newsletter
Do you want to be up to date about our programme? Sign up and receive the AVL Mundo newsletter every month!

Our programme is made possible by:
AVL Mundo is thankful of her partners and supporters. Without whom we wouldn't be able to offer our yearly programme.
Do you want to partner up with us or do you have a good idea, get in touch with us via mail@avlmundo.org.