Past events

Grease Enlightning

March 7, 2020,
20.00 – 01.00 
During Museumnacht010, 7th March, AVL Mundo organised 'Grease Enlightning; A sticky but smooth evening and night program with art, easy to copy dance steps, shiny dixxo and radically lit spaces. We've presented a new site-specific work 24 Ticks ( 2020)  by Jonas Vorwerk and the video TO PEE IN PUBLIC AND PRIVATE SPACES by Itziar Okariz.
Dance artist  Connor Schumacher preformed his show Funny, Soft, Happy & the Opposite and took the audience along in the ideology of Joy as a Safe Space.
Art Week at AVL Mundo

February 7 until 9, 2020
During the weekend of Art Week Rotterdam, 7th until the 9th of February 2020, AVL Mundo hosts a varied program. This program includes a new initiative called The Performance Show, the Dutch premiere of the new Atelier Van Lieshout work Pendulum (2019), a presentation of the work of our Artists-in-residence, an exposition of new and previous Atelier Van Lieshout works at Joep Van Lieshout's private exhibition space and a party to celebrate this years Art Week.
Below all the information about what is happening in and around the block of AVL Mundo.

Art Rotterdam and AVL Mundo presented
The Performance Show

February 7 until 9, 2020
AVL Mundo presented a new collaboration with Art Rotterdam: The Performance Show. From the 7th until the 9th of February 2020 The Performance Show took place at new locations on the AVL Mundo premises. The Performance Show was a new initiative from Art Rotterdam, and part of the Art Rotterdam Week.  This new art program offered visitors a varied and continuous program of national and international performance art curated by Zippora Elders.
This is the first edition where all art forms were presented. For The Performance Show, a partnership has been entered into with various Rotterdam cultural institutions, including Witte de With. Artistic director of Kunstfort bij Vijfhuizen and curator of modern and contemporary art. She finds it fitting and inspiring that attention is paid to performances during the Art Rotterdam Week.  For more The Performance Show information click here.
Mauricio Limon de Leon, 'A gigantic broom to uncover compelling narratives', performance 2020. Courtesy Hilario Galguera, Wild Palms and Ellen de Bruijne Projects.

Killing time at AVL Mundo:
Atelier Van Lieshout's Pendulum for the first
time on display in the Netherlands

February 7 until 9, 2020
Pendulum (2019) is a massive, mechanical clock powered by a swinging pendulum. The clock's hands tick loudly, ominously counting down to the "end of everything" which then ushers in the "beginning of everything" – a perpetual cycle of destruction and creation characteristic of our constant search for utopia.
After being part of the large exhibition The CryptoFuturist and The New Tribal Labyrinth at Pioneerworks (US), Pendulum finally will be revealed in The Netherlands.
Pendulum (Atelier Van Lieshout, 2019)

Artists in Residence present:
Duster

February 7 until 9, 2020
During Art Week AVL Mundo's Artists-in-residence presented a duo expo: Duster. Clémence de La Tour du Pin (FR) and Anders Dickson (US) showed the work they made while staying at AVL Mundo, including a selection of paintings and sculptures. Both of their oeuvres reference and draw from the architecture of the body and its interwoven relationship to the spaces around it. Duster is synonymous with the removal of stagnance. This is intended to play with the ambiguous history of the villa located near the industrial harbour of the city and previously used as a brothel, a business and it's current existence as a temporary home for artists.
Artists in Residence Atelier Clémence de La Tour Du Pin and Anders Dickson
 
Joep van Lieshout's private exhibition space

February 7 until 9, 2020
Besides The Performance Show and Pendulum's premiere in The Netherlands, Joep van Lieshout opened up his exhibition space within his house to show new and previous works from Atelier Van Lieshout.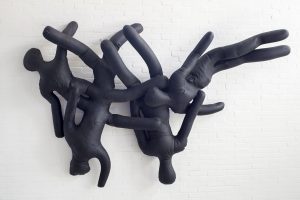 Wall Decoration (Atelier Van Lieshout, 2008)

Party at AVL Mundo

Friday February 7th, 2020
On Friday February 7th, Keilecafe, AVL Mundo and Joeri Woudstra joined forces at an adventurous new location for a night to remember or forget during Art Rotterdam 2020. More info about the party M a a s C i t y L o u n g e here.

Group exhibition Secret Society
Behind every closed door there may be a hidden world, its rules and rituals only known to admitted members. A secret society can pursue political, religious, economic or perverse objectives, but there is one common denominator: they all operate in the shadows. At times because these practices cannot see the light of day, at others because sharing a secret creates a sense of belonging, a feeling of unity which every human not-so-secretly is searching for.
We all fear the unknown, yet the mystique of underground labyrinths, the maze of a hidden world appeals to everyone's imagination. The artists of the group exhibition Secret Society use and depict their fascination for the hidden, thereby uncovering the paradox of a secret. After all, a secret only exists when it is shared, yet disappears the moment it comes out.
The exhibition takes place in a yet undisclosed location within the AVL Mundo premises. While the gate to this 'secret society' is usually kept closed, for once its secrets will be shared.
Participating artists: Joost Benthem – Vincent Ceraudo – Gaëlle Choisne – Paul Geelen – Carlijn Kingma – Chaim van Luit – David Maroto – Anthony Nestel – Jennifer Rubell – Rustan Söderling – Joop Schafthuizen and others
NRC review (****) here
Volkskrant review (****) here

Brutus Art Prize 2019
We are pleased to announce that Priscila Fernandes (Portugal, 1981) is the winner of the first Brutus Art Prize!
The jury praises Fernandes' playful and accurate approach to social themes. She challenges viewpoints on work and leisure with both humor and honesty. This approach makes that her work has found a natural home in the city of Rotterdam – once the city of working people, now a city with an increasing amount of tourists.
The Brutus Art Prize is both for upcoming artists as well as established local icons. We are very happy that the jury wanted to extend an honourable mention to the Rotterdam artist Woody van Amen (1936, Eindhoven). The jury is impressed by the important position he still occupies within Rotterdam's art scene. For almost fifty years, Van Amen has produced a sensational and multifaceted oeuvre that includes painting, sculpture, installation, and film. He doesn't let a day go by without producing art. ´´I have to go to my studio – every day". 
About the Brutus Art Prize
The Brutus Art Prize is an initiative of AVL Mundo foundation and Joep van Lieshout. The award is €4,000 and an exhibition at AVL Mundo in September.
Priscila Fernandes will receive the Brutus Art Prize on Friday June 14th at 7pm by Chair of the jury Mariette Dölle and artist Joep van Lieshout. For more information click here.
Press about the Brutus Art Prize.

Exhibition "Whats wrong with this picture"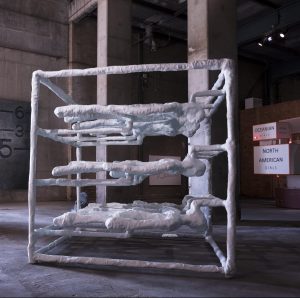 The exhibition "Whats wrong with this picture" (2018) confronts the public with works that contain dark humour, ask urgent questions and present a bleak view on reality. Atelier Van Lieshout, Mike Bouchet, Libia Castro & Ólafur Ólafsson and Riley Harmon contribute to the exhibition. Atelier Van Lieshout showed works from the SlaveCity project about perceived and mouldable social normalcy, as they reconsider the concept of time, the prospects for society and the role of mankind therein. Visitors are forced to think about what we take for granted and to ask themselves, "What's wrong with this picture?".

Exhibition Territory 
The exhibition Territory (2013), curated by Joep van Lieshout, shows the work of several international artists, and has been said to be disruptive and border-crossing. Located in a former feed mill with an outside terrain, the works of art merge with its rough and industrial setting. Especially for the exhibition, a large site-specific installation was created by Dutch artist Kevin van Braak.
During the opening hundreds of people came to have a first look at the works of art, to enjoy the food that Dutch artist Kevin van Braak prepared in his book burning oven, and to dance to live music. In its first month of existence Territory received positive reviews and welcomed many visitors on its premises at the port area in Rotterdam.