Past events

Marathon Screening of Jeroen Jongeleen's 11 films #RunningInCircles
TUNE IN  Saturday August 1st on @avlmundo Instagram Live #SunsetTillSunrise
.
From Lockdown to Re-Emergence – two exhibitions at AVL Mundo brilliantly bookend the two extreme periods of our lives in 2020. Jeroen Jongeleen: Running in Circles/ Movement and Politics In The Streets Of My City, the Rotterdam-based artist's solo show features endurance work created during covid lockdown capturing our stir-craziness and marking the abandoned cities. It's been extended through Sunday August 2 with a 12-hour marathon screening of Jongeleen's 11 films from dusk till dawn on @avlmundo's instagram live. Overlapping is the new nomadic exhibition AVL: LET'S GET PHYSICAL, celebrating our freedom to be outside and active again with 30+ AVL sculptures installed at 12 sites throughout west Rotterdam. It's on view through October 4 with events and bike tours.

Running In Circles Exposition at the Barbaar

AVL MUNDO is pleased to announce the official opening of BarBAAR, a new exhibition and performance site, making AVL Mundo Foundation one of the largest independent contemporary art spaces in The Netherlands. The first AVL Mundo exhibition in the space will be Running in Circles/ Movement and Politics In The Streets Of My City by Rotterdam-based artist Jeroen Jongeleen, the winner of the second annual Brutus Art Prize.
During the opening night the award will be presented, along with this year's Encouragement Prize to the Rotterdam based Chinese artist Liao Zhixin (1990)
Running in Circles/ Movement and Politics In The Streets Of My City 
Rotterdam-based artist Jeroen Jongeleen (b. 1967) has worked in public space throughout his career, creating minimalist endurance performances, as well as text-based graffiti, that straddle political activism and urban intervention. This new solo exhibition of work all created during Covid-19, features 11 short videos of running in circles throughout the city, along with prints and photographs of text works the artist created in public space, drawn from news articles speaking to issues of our time.
 For many, the Covid 19-induced lockdown fueled a stir-crazy urge to go out and run, but for Jeroen Jongeleen running is not an escape from stifling domesticity, but a means of reclaiming the city. His feet and the dirt on the soles of his shoes are his tools, and abandoned streets, post-industrial factory rooftops, and pier-end parking lots, are his canvas. Read the complete text by Edo Dijksterhuis here.
Jeroen Jongeleen, Silent Bridge (2020) | Jeroen Jongeleen, Stain on Concrete (2020)
Jeroen Jongeleen stated: "I've been creating art from running over the last few years, starting from doing long distance and then ultra long distances runs in straight lines and other shapes, then came to the essential form of a small circle, a simple challenging loop, leaving a temporary trace. A trace by effort. The effort of creating something through a basic gesture and concentration. During the corona-period, with everyone and everything boxed up, I had more time and more empty city at my disposal. However, with the parks being closed or limited access, I sought alternatives, ending up running on abandoned parking lots, building rooftops, and other city sites. As an active citizen, the vandalism of leaving a mark on the fabric of regulated space, is a commentary about free and unlimited usage of my surroundings. At the same time, with people sick around me, running allowed me to take care of my health as it forces you to be hyper-focused on the basics of breathing and keeping your joints working."
Brutus Art Prize winner Jeroen Jongeleen
Since the 1990's, Jongeleen has also operated under the alias Influenza for his public projects, especially illegal graffiti. The large-scale posters and photographs in the exhibition are of text works he created in the public, taken from multiple news sources that comment on political and societal issues of our time, such as "This Right Here Will Change Everything." Like the videos, these images are registrational artefacts, since the original work is short-lived. His graffiti name Influenza, by coincidence, aptly captures our time, as did the artist's previous project in 2009-2010, placing masks on statues in Paris and Rotterdam in response to H1n1 paranoia – a gesture currently replicated by others around the world.
A wide range of influences are evident in Jongeleen's work, from the anti-authoritarian Situationist International movement, Fluxus and Dada to Land Art and Conceptual art interventions by Richard Long, Gordon Matte-Clark, and Robert Smithson, as well as the mundane repetitive early works of Bruce Nauman and more.
More information and images of past projects, can be found www.jeroenjongeleen.nl
AVL MUNDO expands with BarBAAR
making AVL Mundo Foundation one of the largest independent contemporary art spaces in The Netherlands
BarBAAR celebrates its official opening with the summer exhibition, offering a new exhibition and performance space to the AVL Mundo compound encompassing two additional cavernous exhibition spaces Brutus and Kathedraal,as well as an Artist Residency and AVL Mundo Sculpture Park.
The exhibition was made possible thanks to the generous support of:

Vegan Cannibal Picknick in de Beeldentuin van AVL Mundo
Geliefde vergankelijke medemensch, ruicken wij daar menschenvleesch?
Nu wij ons weeckenlang hebben geoefend in afstandhouden en onzen huythonger gegroeid is tot onmeetenlycke proporties, is het tyd voor eene krachtige genezinge. Daarom biedt AVL | BARBAAR op 19-20 en 21 juni (juno) een Kannibale Picknick Performance voor eenieder die zich wil laaven aan den geur ende smaeck van onsch lichaem. Temidden van den sculpturen in de AVL Beeldentuin kunt u uw 'boxed' performance afhaelen ende oppeuzelen.

Met het ticket van den box, moge u oock toegang hebben tot den Running in Circles, een tentoonschtelling van Jeroen Jongeleen in de BarBAar.

De Vegan Cannibal Picknick is toebereid door gastheer Joachim Robbrecht, (houtschnede), Lars Exit,
Brânză Albă + Bigg Head Baby (Keep It Business, Berlin) (muziek), a.ACHAT (kostuum), en
Contemporary Glory Contemporary Cash (bediening).
Notie:
Cannibal Picknick is gebaseerd op het gedaechtegoed van de Braziliaanse dichter Oswalde de Andrade die ervoor pleitte om kannibalistisch te denken in den omgangh met de ander: Verteren in plaats van kopiëren of afweren.
Deze expeditie wordt ondersteund door ene gullen bydraeghe van Gemeente Rotterodamum.



Grease Enlightning

March 7, 2020,
20.00 – 01.00 
During Museumnacht010, 7th March, AVL Mundo organised 'Grease Enlightning; A sticky but smooth evening and night program with art, easy to copy dance steps, shiny dixxo and radically lit spaces. We've presented a new site-specific work 24 Ticks ( 2020)  by Jonas Vorwerk and the video TO PEE IN PUBLIC AND PRIVATE SPACES by Itziar Okariz.
Dance artist  Connor Schumacher preformed his show Funny, Soft, Happy & the Opposite and took the audience along in the ideology of Joy as a Safe Space.
Art Week at AVL Mundo

February 7 until 9, 2020
During the weekend of Art Week Rotterdam, 7th until the 9th of February 2020, AVL Mundo hosts a varied program. This program includes a new initiative called The Performance Show, the Dutch premiere of the new Atelier Van Lieshout work Pendulum (2019), a presentation of the work of our Artists-in-residence, an exposition of new and previous Atelier Van Lieshout works at Joep Van Lieshout's private exhibition space and a party to celebrate this years Art Week.
Below all the information about what is happening in and around the block of AVL Mundo.

Art Rotterdam and AVL Mundo presented
The Performance Show

February 7 until 9, 2020
AVL Mundo presented a new collaboration with Art Rotterdam: The Performance Show. From the 7th until the 9th of February 2020 The Performance Show took place at new locations on the AVL Mundo premises. The Performance Show was a new initiative from Art Rotterdam, and part of the Art Rotterdam Week.  This new art program offered visitors a varied and continuous program of national and international performance art curated by Zippora Elders.
This is the first edition where all art forms were presented. For The Performance Show, a partnership has been entered into with various Rotterdam cultural institutions, including Witte de With. Artistic director of Kunstfort bij Vijfhuizen and curator of modern and contemporary art. She finds it fitting and inspiring that attention is paid to performances during the Art Rotterdam Week.  For more The Performance Show information click here.
Mauricio Limon de Leon, 'A gigantic broom to uncover compelling narratives', performance 2020. Courtesy Hilario Galguera, Wild Palms and Ellen de Bruijne Projects.

Killing time at AVL Mundo:
Atelier Van Lieshout's Pendulum for the first
time on display in the Netherlands

February 7 until 9, 2020
Pendulum (2019) is a massive, mechanical clock powered by a swinging pendulum. The clock's hands tick loudly, ominously counting down to the "end of everything" which then ushers in the "beginning of everything" – a perpetual cycle of destruction and creation characteristic of our constant search for utopia.
After being part of the large exhibition The CryptoFuturist and The New Tribal Labyrinth at Pioneerworks (US), Pendulum finally will be revealed in The Netherlands.
Pendulum (Atelier Van Lieshout, 2019)

Artists in Residence present:
Duster

February 7 until 9, 2020
During Art Week AVL Mundo's Artists-in-residence presented a duo expo: Duster. Clémence de La Tour du Pin (FR) and Anders Dickson (US) showed the work they made while staying at AVL Mundo, including a selection of paintings and sculptures. Both of their oeuvres reference and draw from the architecture of the body and its interwoven relationship to the spaces around it. Duster is synonymous with the removal of stagnance. This is intended to play with the ambiguous history of the villa located near the industrial harbour of the city and previously used as a brothel, a business and it's current existence as a temporary home for artists.
Artists in Residence Atelier Clémence de La Tour Du Pin and Anders Dickson
 
Joep van Lieshout's private exhibition space

February 7 until 9, 2020
Besides The Performance Show and Pendulum's premiere in The Netherlands, Joep van Lieshout opened up his exhibition space within his house to show new and previous works from Atelier Van Lieshout.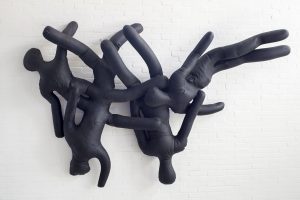 Wall Decoration (Atelier Van Lieshout, 2008)

Party at AVL Mundo

Friday February 7th, 2020
On Friday February 7th, Keilecafe, AVL Mundo and Joeri Woudstra joined forces at an adventurous new location for a night to remember or forget during Art Rotterdam 2020. More info about the party M a a s C i t y L o u n g e here.

Group exhibition Secret Society
Behind every closed door there may be a hidden world, its rules and rituals only known to admitted members. A secret society can pursue political, religious, economic or perverse objectives, but there is one common denominator: they all operate in the shadows. At times because these practices cannot see the light of day, at others because sharing a secret creates a sense of belonging, a feeling of unity which every human not-so-secretly is searching for.
We all fear the unknown, yet the mystique of underground labyrinths, the maze of a hidden world appeals to everyone's imagination. The artists of the group exhibition Secret Society use and depict their fascination for the hidden, thereby uncovering the paradox of a secret. After all, a secret only exists when it is shared, yet disappears the moment it comes out.
The exhibition takes place in a yet undisclosed location within the AVL Mundo premises. While the gate to this 'secret society' is usually kept closed, for once its secrets will be shared.
Participating artists: Joost Benthem – Vincent Ceraudo – Gaëlle Choisne – Paul Geelen – Carlijn Kingma – Chaim van Luit – David Maroto – Anthony Nestel – Jennifer Rubell – Rustan Söderling – Joop Schafthuizen and others
NRC review (****) here
Volkskrant review (****) here

Brutus Art Prize 2019
We are pleased to announce that Priscila Fernandes (Portugal, 1981) is the winner of the first Brutus Art Prize!
The jury praises Fernandes' playful and accurate approach to social themes. She challenges viewpoints on work and leisure with both humor and honesty. This approach makes that her work has found a natural home in the city of Rotterdam – once the city of working people, now a city with an increasing amount of tourists.
The Brutus Art Prize is both for upcoming artists as well as established local icons. We are very happy that the jury wanted to extend an honourable mention to the Rotterdam artist Woody van Amen (1936, Eindhoven). The jury is impressed by the important position he still occupies within Rotterdam's art scene. For almost fifty years, Van Amen has produced a sensational and multifaceted oeuvre that includes painting, sculpture, installation, and film. He doesn't let a day go by without producing art. ´´I have to go to my studio – every day". 
About the Brutus Art Prize
The Brutus Art Prize is an initiative of AVL Mundo foundation and Joep van Lieshout. The award is €4,000 and an exhibition at AVL Mundo in September.
Priscila Fernandes will receive the Brutus Art Prize on Friday June 14th at 7pm by Chair of the jury Mariette Dölle and artist Joep van Lieshout. For more information click here.
Press about the Brutus Art Prize.

Exhibition "Whats wrong with this picture"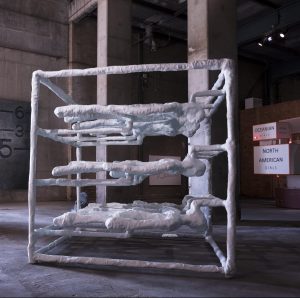 The exhibition "Whats wrong with this picture" (2018) confronts the public with works that contain dark humour, ask urgent questions and present a bleak view on reality. Atelier Van Lieshout, Mike Bouchet, Libia Castro & Ólafur Ólafsson and Riley Harmon contribute to the exhibition. Atelier Van Lieshout showed works from the SlaveCity project about perceived and mouldable social normalcy, as they reconsider the concept of time, the prospects for society and the role of mankind therein. Visitors are forced to think about what we take for granted and to ask themselves, "What's wrong with this picture?".

Exhibition Territory 
The exhibition Territory (2013), curated by Joep van Lieshout, shows the work of several international artists, and has been said to be disruptive and border-crossing. Located in a former feed mill with an outside terrain, the works of art merge with its rough and industrial setting. Especially for the exhibition, a large site-specific installation was created by Dutch artist Kevin van Braak.
During the opening hundreds of people came to have a first look at the works of art, to enjoy the food that Dutch artist Kevin van Braak prepared in his book burning oven, and to dance to live music. In its first month of existence Territory received positive reviews and welcomed many visitors on its premises at the port area in Rotterdam.